Zeblaze Thor S Full Specifications
Zeblaze Thor S is a standalone smartwatch with a spectacular appearance that represents class. It is a comprehensive smartwatch suitable for both men and women. The specs and features are quiet enormous, it has GPS built-in, HRM, supports 2G/3G and WCDMA networks plus a 5MP camera for high quality pictures. The Thor S runs on Android OS 5.1 and the battery life is impressive despite the numerous features.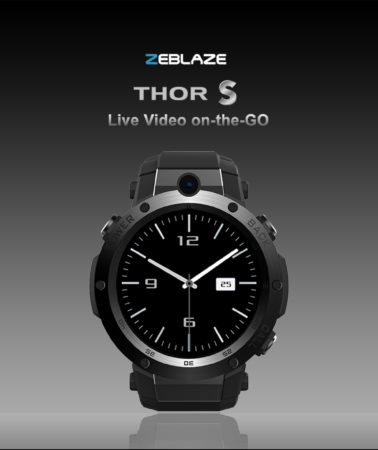 Zeblaze Thor S Full Specifications
EDITOR'S RATING

Design:

(

4.0

/

5

)

Battery:

(

3.3

/

5

)

Fitness tracking:

(

4.0

/

5

)

Features:

(

4.4

/

5

)

Price:

(

4.5

/

5

)

Average:

(

4.0

/

5

)

WHERE TO BUY

BUY AT AMAZON

BUY AT GEARBEST


ABOUT DEVICE

Device name
Zeblaze Thor S
Device type
Classic/Standalone smartwatch
Predessesor
--
Successor
Zeblaze Thor 4
Released date
November, 2017
Ideal for
Men (also a great choice for women)

DISPLAY

Display type
AMOLED
Display size
1.39 inches
Screen resolution
400 x400 pixel
Density
326 ppi
Input type
Touchscreen plus 4 buttons
Multi-touch
Yes

BODY

Shape
Circular
Dimension
57.7 x 51.2 x 15mm
Weight
--
Casing material
CNC crafts stainless steel
Strap/band material
Silicone
Bezel Material
Band size
--
Screen protection
Corning Gorilla glass 4
Water resistant
IP68
Swim-proof
Not recommended
Color(s)
Black

MEMORY

RAM
1 GB
Internal storage
16 GB
Memory card slot
--

CONNECTIVITY

Bluetooth
Bluetooth smart v4.0 LE
Wi-Fi
Yes + WiFi hotspot
NFC
No
GPS
Yes, GPS

CELLULAR TECHNOLOGY

Technology
2G/3G
SIM slot
Yes, Nano SIM
Band
GSM 850/900/1800
WCDMA B1/2/5

NOTIFICATIONS

Email alert
Yes
SMS alert
Yes
Calls alert
Yes
Event reminder
Yes
Weather forecast
Yes
Facebook notifacation
Yes
Twitter notification
Yes
Whatsapp notification
Yes

FITNESS TRACKING

Sleep tracking
Yes
Heart rate monitoring
Yes
Distance covered
Yes
Steps climbed
Yes
Calories burnt
Yes
Calories Consumption
Yes

MEDIA

Audio
mp3/mp4
Bluetooth music
Yes
Radio
--
Loudspeaker
Yes
Microphone
Yes
Camera
Yes, 5.0MP

SENSORS

Pedometer
Yes
Accelerometer
Yes
Magnetometer
--
Heart rate monitor (HRM)
Yes
Barometer
Yes
Gyroscope
Yes
Ambient light
Yes
Other sensors
--

PLATFORM

Operating system (OS)
Android OS 5.1
Chipset
MTK6580
CPU
1.3 Ghz Qaud core
GPU
--

BATTERY

Type of battery
Lithium polymer battery
Battery capacity
350mAh
Battery life
Standby: 2 days+ , Mixed usage: ~ 12 hours+
Charging
USB charging cradle
Charging time
About 1-2 hours

MISC

Payment system
--
Compatibility
Android 6.0 or later.
iOS 9.0 or later.
Companion app
--
Customizable watch face
Yes
Interchangeable band
Yes
Voice command
Yes

BOX CONTENTS

Zeblaze Thor S
Strap + screwdriver
Charging cradle cable
User manual
Zeblaze Thor S Features
Design
Zeblaze thor S has a rugged appearance that makes it more suitable for men. It has a cutting edge design that looks elegant, adorable and bold. The screen size is 1.39 inches which is adequately wide. The display is rich, full color AMOLED display. The interface of the device is very easy to navigate with its touchscreen support plus the additional four buttons that comes with the device. Two on both sides.
The Thor S is built for durability to withstand tough conditions. The body is made of top grade stainless steel and silica gel straps that are interchangeable.
Battery
Despite the enormous features that comes with the Thor S, it is worthy to note that the battery life surpassed our expectation and it is impressive. It uses a lithium polymer battery with a capacity of 350mAh which on standby lasts about 2-3 days on average while on mixed usage it is reduced to approximately 12hours. However, battery life varies amongst different users and it is majorly dependent on your usage. Moreover the battery takes just about one hour to charge a fully depleted battery, you won't have to wait for ages when charging the battery.
Water Resistance/Protection
Another important feature of the Thor S is its IP68 rating. The Thor S is water resistant up to 1.5 meters, so it's not recommended for tracking swimming activities. You shouldn't wear it to the pool or ocean as this may damage the device.
Media
The Thor S is a great choice, if you looking for a smartwatch that entertains you. Built into the Thor S is 16GB massive storage space that lets you store your favorite media files and even install apps directly from the play store. The Thor S also has a loudspeaker that lets you play media files aloud with no need for earbud. Another great thing to note is the Microphone that is built in which lets you use the voice command features and call made directly from the watch is very clear.
The Thor S also has a 5MP camera that lets you capture all captivating moments in high quality pictures.
Activity/Fitness tracking
Thor S is a perfect device to track all your fitness activities. The Thor S has GPS built in,HRM and a wide variety of other sensors which lets you track your fitness level effortlessly. With the inbuilt GPS you can track outdoor activities that includes; routes you take, your location as well distances, while the HRM lets you track your heart rate variations a feature that lets you know your heart health status.
The Thor S supports multiple sport modes, you can track both indoor and outdoor events. The WearHealth app contains lots of interesting and useful features that you will find handy.
Notifications & Application
Zebalze Thor S is a great companion when it comes to keeping you updated with notifications from your phone. If there is a new notification on your phone you get notified via a vibration once its connected to a compatible Android or iOS phone.
It alerts you when there is an incoming call or missed calls.
It has reminder features to help you stay updated with schedules, event reminders and weather forecast.
It notifies you when you have a new text message alert.
It also alerts you when there is a new email on your phone.
It alerts you instantly when there is a notification from different third-party applications such as Facebook, Whatsapp and Twitter.
Zeblaze Thor S comes with NFC chip built in which supports Google pay a contactless payment system that lets you make payments on the go directly from your wrist. The Thor S also support cellular network connections that ranges from 2G/3G and WCDMA. This makes the Thor S a standalone smartwatch that lets you make and receive calls directly from the watch.
You can customize the watch faces and interchange the straps of the Thor S, a useful feature that lets you define your style for every events. Meditek powers the Zeblaze thor S.
Pros
Built with durable materials.
The design is adorable and elegant.
Easy to navigate.
There is GPS,HRM and NFC built in.
It has support for multi sport modes.
It supports cellular network connections, 2G/3G.
Price is cheap.
It comes with 5MP camera.
1GB RAM and 16GB internal storage space.
Cons
Editor's Ratings
Here is our rating on Zeblaze Thor S
Design:

(

4.0

/

5

)

Battery:

(

3.3

/

5

)

Fitness tracking:

(

4.0

/

5

)

Features:

(

4.4

/

5

)

Price:

(

4.5

/

5

)

Average:

(

4.0

/

5

)
Where to Buy