Ticwatch e Full Specifications and Features
The full specifications and features of Ticwatch Express which was released alongside Ticwatch Sport in November 2017. It runs on Google wear OS.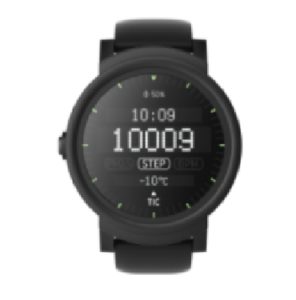 Ticwatch Express (Ticwatch e) Full Specifications
EDITOR'S RATING

Design:

(

4.0

/

5

)

Battery:

(

3.0

/

5

)

Fitness tracking:

(

4.0

/

5

)

Features:

(

4.0

/

5

)

Price:

(

3.5

/

5

)

Average:

(

3.7

/

5

)

WHERE TO BUY

BUY AT AMAZON



BUY AT GearBest

ABOUT DEVICE

Device name
Ticwatch Express ( Ticwatch e)
Device type
Classic smartwatch
Predessesor
--
Successor
--
Released date
November, 2017
Ideal for
Men and women

DISPLAY

Display type
OLED
Display size
1.4 inches
Screen resolution
400 x 400 pixel
Density
--
Input type
Touchscreen plus Tickle strip button
Multi-touch
Yes

BODY

Shape
Circular/curved
Dimension
44 x 44 x 13.5 mm
Weight
41.5 grams
Casing material
Polycarbonate
Strap/band material
Silicon
Bezel Material
Band size
20 mm
Screen protection
Anti-scratch glass
Water resistant
Yes, IP67
Swim-proof
Not recommended
Color(s)
White, lemon, black

MEMORY

RAM
512
Internal storage
4 GB
Memory card slot
--

CONNECTIVITY

Bluetooth
Bluetooth smart v4.1 LE
Wi-Fi
Yes, Wi-Fi 802.11 b/g/n
NFC
No
GPS
Yes, GPS/GLONASS/Agps

CELLULAR TECHNOLOGY

Technology
--
SIM slot
No
Band
--

NOTIFICATIONS

Email alert
Yes
SMS alert
Yes
Calls alert
Yes
Event reminder
Yes
Weather forecast
Yes
Facebook notifacation
Yes
Twitter notification
Yes
Whatsapp notification
Yes

FITNESS TRACKING

Sleep tracking
Yes
Heart rate monitoring
Yes
Distance covered
Yes
Steps climbed
Yes
Calories burnt
Yes
Calories Consumption
Yes

MEDIA

Audio
mp3/mp4
Bluetooth music
Yes
Radio
No
Loudspeaker
Yes
Microphone
Yes
Camera
No

SENSORS

Pedometer
--
Accelerometer
Yes
Magnetometer
--
Heart rate monitor (HRM)
Yes
Barometer
--
Gyroscope
Yes
Ambient light
Yes
Other sensors
Proximity sensor, e-compass and vibrator

PLATFORM

Operating system (OS)
Wear OS by Google
Chipset
MTK MT2601
CPU
1.2GHz dual-core
GPU
--

BATTERY

Type of battery
Non-removable Li-ion
Battery capacity
300mAh
Battery life
Standby :5 day + , Mixed usage: 1 - 2 days
Charging
Inductive charging magnet
Charging time
About 1-2 hours

MISC

Payment system
--
Compatibility
Android 4.3 or later.
iOS 8.0 or later.
Companion app
Mobvoi/Ticwatch app
Customizable watch face
Yes
Interchangeable band
Yes
Voice command
Yes

BOX CONTENTS

Ticwatch Express
Strap
Magnetic charging dock
Quick starter guild
Ticwatch Express Features
Design
Ticwatch express has a classic design and an appearance that dictates a smartrwatch suitable for both sex. The display is rich, it features a 1.4 inch OLED display. It's touchscreen plus tickle strip by the side that lets you scroll the screen effortlessly, the Ticwatch express also supports multi-touch .
The body is made of tough material made of polycarbonate and an interchangeable silicon straps. The Ticwatch express is light weight, weighs only 41.5grams that you will barely know you putting it on.
Battery
The battery life of Ticwatch express is quiet great even though it's not the best we have seen. On standby you should expect about 2-3 days battery life, whereas on mixed average usage it can stay up for little over a day, a bit great.
There is a USB charging pin plus a charging magnet which can be used to charge the device, it takes about 1-2 hours to charge a completely depleted battery.
Media
The Ticwatch express comes with 4GB onboard music storage which lets you store your favorite tracks and other files. You can listen to this while working out, in the office or just recreating. There is also a loudspeaker built into the device which can also be used to play files directly from the watch.
Water Resistance/Protection
Ticwatch express is rated IP67, which means it passed the 0.5-1meter under water for 30minutes test. As such its water and dust resistant. It is splash-proof, however we don't recommend wearing it under rain, to the shower, pool or ocean. It's also advised that you don't subject the Ticwatch express to high pressure such as diving from great heights.
Fitness/Activity Tracking
The Ticwatch express comes with all the standard sensors you will need to track your active life. Beside this is an accelerometer to track steps you take and HRM which tracks your heart rate variation. It also comes with an inbuilt GPS sensor which lets you track outdoor activities.
The Ticwatch express is capable of tracking various activities which includes;
It tracks steps you take.
It is capable of tracking calories burned and consumed.
The HRM sensor monitors your heart rate variations.
With the GPS inbuilt you can track locations, distance as well routes you take more accurately.
Notifications & Application
When connected to a compatible device the Ticwatch express is able to update you when there is a new notification on your phone.
There is a calendar and event reminder feature that updates you on your schedules.
With the inbuilt microphone you can answer incoming calls.
It notifies you when you have a new text message alert.
It also alerts you when there is a new email on your phone.
It alerts you instantly when there is a notification from different third-party applications such as Facebook alerts, Whatapp alert and Twitter alerts.
Ticwatch express has the NFC chip built in which supports Google pay, a contactless payment system that lets you make payments on the go without your debit card or wallet. Beside this, with the Wear OS you can download directly to the Ticwatch express your favorite apps right from the play store.
The Ticwatch express is compatible with android 4.3 or later and iOS 8.0 or later.
Pros
Design is classic and great.
Light weight.
It runs on Google's wear OS, meaning access to more apps.
There is a loudspeaker, microphone and Google pay.
Cons
Editor's Ratings
Here is our rating on Ticwatch Express
Design:

(

4.0

/

5

)

Battery:

(

3.0

/

5

)

Fitness tracking:

(

4.0

/

5

)

Features:

(

4.0

/

5

)

Price:

(

3.5

/

5

)

Average:

(

3.7

/

5

)
Where to Buy