Garmin Vivofit Jr 2 Full Specifications and Features
After the Garmin Vivofit Jr which was a hit, the latest version, Garmin Vivoactive Jr 2 is a swim-ready fitness tracker with a whooping 1 year battery life made specially for kids. It comes in different themes from the spider man to the Captain America adventure. It is loaded with quiet a handful of great features which makes it a perfect companion for kids. It was released early in 2018. The Vivoactive jr 2 just like the previous version runs on a proprietary platform.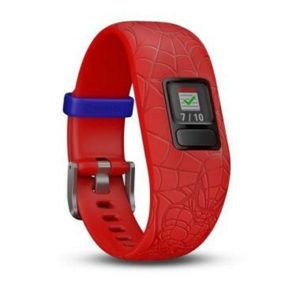 EDITOR'S RATING

Design:

(

4.0

/

5

)

Battery:

(

4.0

/

5

)

Fitness tracking:

(

4.0

/

5

)

Features:

(

3.5

/

5

)

Price:

(

3.5

/

5

)

Average:

(

3.8

/

5

)

WHERE TO BUY

BUY AT AMAZON

ABOUT DEVICE

Device name
Garmin Vivofit Jr 2 Spider man edition
Device type
Fitness/sporty smartwatch
Predessesor
--
Successor
Released date
June, 2017
Ideal for
Kids

DISPLAY

Display type
LED with
Transflective memory-in-display (MIP)
Display size
0.4 inch
Screen resolution
80 x 80 pixels
Input type
--

BODY

Shape
Rectangular
Dimension
--
Weight
17.5 grams
Casing material
Fiber-reinforced polymer
Strap material
Silicone
Bezel Material
--
Band size
--
Screen protection
Chemically strengthened glass
Water resistant
Yes, 5ATM
Swim-proof
Yes
Color(s)
Black and verities of strap colors

MEMORY

RAM
--
Internal storage
4 weeks storage
Memory card slot
--

CONNECTIVITY

Bluetooth
Yes
Wi-Fi
--
NFC
--
GPS
--

CELLULAR TECHNOLOGY

Technology
--
SIM slot
No
Band
--

NOTIFICATIONS

FITNESS TRACKING

Sleep tracking
Yes
Distance covered
Yes
Steps climbed
Yes
Calories burnt
Yes
Calories Consumption
Yes

MEDIA

Radio
No
Loudspeaker
No
Microphone
No
Camera
No

SENSORS

Accelerometer
Yes

PLATFORM

Operating system (OS)
Proprietary OS
Chipset
--
CPU
--
GPU
--

BATTERY

Type of battery
Lithium-ion
Battery capacity
--
Battery life
1 year battery life(depends on usage) and replaceable battery
Charging
USB charging cable
Charging time
About 2 hours

MISC

Compatibility
Andriod 4.4 or later
IOS 10.0 or later
Bluetooth 4.0 or later
Check if your device is compatible
Companion app
Germin connect IQ store
Interchangeable band
Yes,20mm
Voice command
No

IN THE BOX CONTENTS

Garmin Vivofit Jr 2
User manual
Germin Vivofit Jr 2 Features
Design
The Vivofit Jr 2 is a great fitness tracker and smartwatch all in one. The different themed designs makes it very suitable for kids. It comes in different themes, such as the spider man, Disney and Star wars. The colored screen is only 0.4 inch that is powered by a transflective memory-in-pixel technology that makes the screen readable even under high sunlight intensity.
The body material of the Vivofit Jr 2 is made of durable polymer material while the strap is made of silicon material. The strap which also houses the Vivofit jr 2 is interchangeable and comes in various different sizes depending on wrist size. Beside all this, it weighs only 17 grams making it more suitable for kids.
Battery
Though the Vivofit Jr 2 has quiet a lot of juicy features despite being a kids activity tracker, but then the battery is a bomb. It lasts a whole full year. It can't be recharged. Note that battery life depends on usage. it can only be replaced by following the below steps;
First you will need to buy two CR1632 batteries, remove the device from the band.
Use a small Philip screwdriver or something similar to unscrew the four screws at the back of the device.
Remove the rear case and battery.
Insert the new battery with the negative side facing the inside of the front cover.
Verify that the gasket is not damaged and that it is fully seated in the rear case.
Now replace the rear case and the four screws you unscrewed earlier.
Make sure you tighten the four screws equally and firmly.
Lastly Insert the device into it's flexible silicone band by stretching the band material around the device. Ensure that the arrow on the device must be aligned with the arrow inside the band.
Water Resistance/Protection
Even though the Vivofit Jr 2 is meant for kids, it is not lacking in features. It has a water rating of 5ATM and as such it is swim-proof. It can be worn under the rain, take your bath with it without worrying about getting it damaged..
Activity/Fitness tracking
The Vivofit Jr 2 is has quiet a host of interesting fitness tracking features built into it. It has an accelerometer which is capable of monitoring steps and sleep quality and stages. It is also swim-proof, ready for the adventure inside water which allows for tracking of activities while swimming. Although it doesn't come with a heart rate monitor nor GPS for tracking outdoor activities.
There a parental personal assistance feature that allows parents to easily track activities on the Vivofit Jr. Once the device is synced with a compatible device, you can view metrics, assign goals, create profile for different kids, invite the whole family for a challenge and even more interesting features. There is also a toe-to-toe step challenge that lets kids sync with nearby friends and challenge each other.
Depending on the selected theme, kids can explore the app to unfold new adventures.
Notifications & Application
For kids who like to procrastinate , parents can set reminders on the Vivofit Jr 2 which reminds and help them complete chores and homework.
The Vivofit Jr 2 comes in various great choices that allows your kid get their hands on more styles and app adventures . You can customize it simply by getting a new band that opens up a world of new adventures that ranges from the spider man, Disney to star wars giving your child the opportunity to showcase their passion.
The Vivofit Jr 2 is compatible with android 4.4 or later and iOS 10.0 or later devices. Check if your childs smartphone is compatible with the Vivofit Jr 2.
Pros
Its is a rugged and tough..
Its built for durability.
For a kid smartwatch, it is swim-proof..
The straps comes in different adventurous themes.
The battery life is quiet impressive.
Cons
Very little internal storage space.
No GPS or HRM.
Editor's Ratings
Here is our rating on Garmin Vivofit Jr 2
Design:

(

4.0

/

5

)

Battery:

(

4.0

/

5

)

Fitness tracking:

(

4.0

/

5

)

Features:

(

3.5

/

5

)

Price:

(

3.5

/

5

)

Average:

(

3.8

/

5

)
Where to Buy