Garmin Fenix 5S Plus Full Specifications and Features
Last updated on March 28th, 2019 at 11:42 am
Not so many smartwatches are rated 10ATM. The new Garmin Fenix 5S Plus is the latest addition to the Garmin's Fenix 5 series,
Although quiet expensive, expect nothing but great quality from a world renowned tech experts. The new Fenix 5S plus was released in June 2018 and comes loaded with a host of new features such as Germin Pay, a new TOPO map featuring Trendline popularity routing that helps you find the best routes from billions of miles and a massive 16GB for onboard music and other files storage.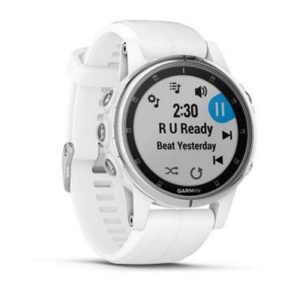 Garmin Fenix 5S Plus Full Specifications
EDITOR'S RATING

Design:

(

4.5

/

5

)

Battery:

(

3.0

/

5

)

Fitness tracking:

(

4.5

/

5

)

Features:

(

4.5

/

5

)

Price:

(

2.5

/

5

)

Average:

(

3.8

/

5

)

WHERE TO BUY

BUY AT AMAZON

ABOUT DEVICE

Device name
Garmin Fenix 5S Plus
Device type
Fitness/Classic smartwatch
Predessesor
Garmin fenix 5
Successor
Released date
June, 2018
Ideal for
Men (will look good too on women.)

DISPLAY

Display type
LED with
Transflective memory-in-display (MIP)
Display size
1.2 inch
Screen resolution
240 x 240 pixels
Input type
5 buttons (Not touchscreen)

BODY

Shape
Circular
Dimension
42 x 42 x 15.4 mm
Weight
65 grams
Casing material
Fiber-reinforced polymer
Strap material
Silicone, suede or steel
Bezel Material
stainless steel
Band size
20mm
Screen protection
Chemically strengthened glass or sapphire crystal
Water resistant
Yes, 10ATM
Swim-proof
Yes
Color(s)
Black

MEMORY

RAM
--
Internal storage
16GB
Memory card slot
--

CONNECTIVITY

Bluetooth
Yes, and ANT+
Wi-Fi
Yes
NFC
Yes
GPS
Yes, GPS/GLONASS/Galileo

CELLULAR TECHNOLOGY

Technology
--
SIM slot
No
Band
--

NOTIFICATIONS

Email alert
Yes
SMS alert
Yes
Calls alert
Yes
Event reminder
Yes
Weather forecast
Yes
Facebook notifacation
Yes
Twitter notification
Yes
Whatsapp notification
Yes

FITNESS TRACKING

Sleep tracking
Yes
Heart rate monitoring
Yes
Distance covered
Yes
Steps climbed
Yes
Calories burnt
Yes
Calories Consumption
Yes

MEDIA

Audio
mp3/mp4
Bluetooth music
Yes
Radio
No
Loudspeaker
No
Microphone
No
Camera
No

SENSORS

Thermometer
Yes
Accelerometer
Yes
Magnetometer
Yes
Heart rate monitor (HRM)
Yes
Barometer
Yes
Gyroscope
Yes
Ambient light
Yes

PLATFORM

Operating system (OS)
Proprietary OS
Chipset
--
CPU
--
GPU
--

BATTERY

Type of battery
Lithium-ion
Battery capacity
--
Battery life
5days+ on smartwatch mode , ~ 10 hours+ with GPS on
Charging
USB charging cable
Charging time
About 2 hours

MISC

Payment system
Garmin pay
Compatibility
Andriod 4.4 or later
IOS 10.0 or later
Bluetooth 4.0 or later
Check if your device is compatible
Companion app
Germin connect IQ store
Customizable watch face
Yes
Interchangeable band
Yes,20mm
Voice command
No

IN THE BOX CONTENTS

Garmin Fenix 5S plus
Strap
USB charging cable
User manual
Garmin Fenix 5S Plus Features
Design
The new Garmin Fenix 5s plus is quiet a beauty of a beast to behold that can be characterized as elegant, classic and as well one of the best fitness smartwatches for men you can buy right now. With the new reduced sizes in dimension it's a perfect fit for smaller wrist and will look great too on women. The screen is smaller at 1.2inch powered by LED and a transflective memory-in-pixel technology that makes the screen easier to view even under bright sunlight.
The body of the Garmin fenix 5S plus is also built for durability. The casing is a fiber- reinforced polymer , a stainless steel bezel and a silicon, steel or suede strap. However the silicon strap will be more lighter. The screen protection comes in two separate versions, a chemically strengthened glass or a scratch resistant and stronger sapphire crystal which will cost you more money.
The Garmin Fenix 5s plus is not touchscree, but features a total of 5 physical buttons by the side which makes navigating the 1.2 inch screen very easy.
The Garmin fenix 5 Plus Series watches are available in a variety of choices which includes PVD-coated stainless steel bezel and DLC titanium bezel version.
Battery
The Garmin Fenix 5s plus comes loaded with a whole lot of features, but despite that the battery is quiet great. It is a li-ion battery which on smartwatch mode can last up to 6 days while with the GPS on expect the battery to stay up for about 10 hours.
The battery can be charged with a USB charging cable that comes with the device. Its recommended that you use only Garmin chargers to charge the Fenix 5s plus.
Media
One of the new additions to the Garmin Fenix 5s plus is a massive 16GB internal storage space which lets you store over 400 of your favorite tracks which you can listen to via a Bluetooth enabled earbud while working out, in the office or just recreating.
Water Resistance/Protection
There are lots of great smartwatches available right now, but very few are rated 10ATM. The Garmin Fenix 5s plus is rated 10ATM and as such it is swim-proof. So if you want to track your swimming activities this device will be a great choice. This goes for any form of water contact up to 100 meters deep, you need not worry with Fenix 5s plus.
Activity/Fitness tracking
The Fenix 5 has quiet a huge list of fitness tracking features that will help you stay fit as well leave a healthy life. There is the heart rate sensor at the back of the Fenix 5s plus that monitors your heart rate. The Fenix is capable of tracking steps you climbed, your sleep stages, hiking, cycling and a host of other fitness activities.
You can add a power data to your training by downloading running power app from the Connect IQ store onto your compatible watch. It was built by Garmin Labs, the Running Power app taps into metrics such as pace, vertical oscillation, grade and even local wind conditions to determine the amount of power you're applying at the ground as you run.
With the inbuilt GPS /GLONASS/Galileo you can track distances you covered, routes ,locations and even difficult environments than with just the GPS alone. There is also an altimeter which provides elevation data to accurately monitor your hiking activities.
Notifications & Application
The Fenix 5s plus is a great companion which is capable of keeping you updated with latest notifications from your smartphone which includes;
It alerts you when there is an incoming call or missed calls.
Stay updated with the event reminder features.
The Fenix 5s plus is capable of updating you with weather forecast data.
It notifies you when you have a new text message.
It lets you receive email alerts on the go.
You can respond to calls by text, though this feature is only available on compatible android devices.
Info push: it alerts you instantly when there is a notification from different third-party applications such as Facebook alerts, Whatapp alert and Twitter alerts.
Another great feature that comes with the Fenix 5s plus is the full color TOPO map feature preloaded with map data optimized for at a glance navigation and location tracking. For runners, hikers, and cyclists, there is a Trendline popularity routing which uses billions of miles of Garmin connect data to help you find and follow the best trails and routes.
The new Fenix 5s plus also features Garmin pay a countless payment system that enables you make payment easily from your wrist.
The Fenix 5s plus is customizable, you can customize the watch face simple by downloading one from the Garmin connect IQ store. There are different available straps from which you can pick your choice.
It is compatible with android 4.4 or later and iOS 10.0 or later devices. Check if your smartphone is compatible with the Fenix 5s plus.
There are also loads of golfing features such as 41000 training courses, yardage layoffs as well many other interesting features for golfers.
Pros
Its tough, classic and sporty.
Its built for durability.
Its water resistant up to 100 meters.
Its has a massive 16GB storage space.
It comes with full color TOPO map feature for location tracking
It has a huge list of fitness tracking features that help you stay fit and healthy.
The Straps and watch faces are customizable.
Cons
It is quiet expensive.
There is no loudspeaker
No sim slot.
Editor's Ratings
Here is our rating on Garmin Fenix 5S Plus
Design:

(

4.5

/

5

)

Battery:

(

3.0

/

5

)

Fitness tracking:

(

4.5

/

5

)

Features:

(

4.5

/

5

)

Price:

(

2.5

/

5

)

Average:

(

3.8

/

5

)
Where to Buy