Fossil Gen 4 Q Venture Full Specifications
Last updated on May 19th, 2019 at 05:10 pm
Fossil GEN 4 Q venture is a fashion-focused smartwatch designed for women with its full specifications and features telling it all. Unlike the Gen 3, There is now Google pay, GPS, HRM, a more stylish design and a host of other additional features that set is apart as a classy companion for women. It was released in August, 2018 and like the previous versions runs on the Google Wear OS.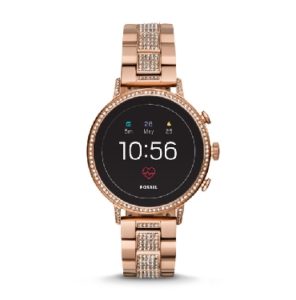 Fossil Gen 4 Q Venture Full Specifications
EDITOR'S RATING

Design:

(

4.5

/

5

)

Battery:

(

2.5

/

5

)

Fitness tracking:

(

4.0

/

5

)

Features:

(

4.0

/

5

)

Price:

(

3.5

/

5

)

Average:

(

3.7

/

5

)




WHERE TO BUY

BUY AT AMAZON

ABOUT DEVICE

Device name
Fossil Gen 4 Q Venture
Device type
Classic smartwatch
Predessesor
Fossil Gen 3 Q Venture
Successor
--
Released date
August, 2018
Ideal for
Women

DISPLAY

Display type
AMOLED
Display size
1.2 inches
Screen resolution
454 x 454 pixel
Density
--
Input type
Touchscreen plus 3 physical buttons
Multi-touch
--

BODY

Shape
Circular
Dimension
40 x 40 x 13 mm
Weight
Casing material
Stainless steel
Strap/band material
Leather and silicone straps available
Bezel Material
Band size
18 mm
Screen protection
Water resistant
Yes, IP67, 3ATM
Swim-proof
Yes, recommended
Color(s)
Black

MEMORY

RAM
512
Internal storage
4 GB
Memory card slot
--

CONNECTIVITY

Bluetooth
Bluetooth smart v4.1 LE
Wi-Fi
Yes, Wi-Fi 802.11 b/g/n
NFC
Yes
GPS
Yes

CELLULAR TECHNOLOGY

Technology
--
SIM slot
No
Band
--

NOTIFICATIONS

Email alert
Yes
SMS alert
Yes
Calls alert
Yes
Event reminder
Yes
Weather forecast
Yes
Facebook notifacation
Yes
Twitter notification
Yes
Whatsapp notification
Yes

FITNESS TRACKING

Sleep tracking
Yes
Heart rate monitoring
Yes
Distance covered
Yes
Steps climbed
Yes
Calories burnt
Yes
Calories Consumption
Yes

MEDIA

Audio
mp3/mp4
Bluetooth music
Yes
Radio
No
Loudspeaker
No
Microphone
Yes
Camera
No

SENSORS

Pedometer
--
Accelerometer
Yes
Magnetometer
--
Heart rate monitor (HRM)
Yes
Barometer
--
Gyroscope
Yes
Ambient light
Yes
Other sensors
--

PLATFORM

Operating system (OS)
Wear OS 2.1
Chipset
--
CPU
Qualcomm Snapdragon Wear 2100
GPU
--

BATTERY

Type of battery
Non-removable Li-ion
Battery capacity
--
Battery life
Standby :1 day + , Mixed usage: ~1 day
Charging
Inductive charging magnet
Charging time
About 2 hours

MISC

Payment system
Google pay
Compatibility
Android 4.4 (excluding Go edition) or later.
iOS 9.3 or later.
Companion app
Fossil Q app
Customizable watch face
Yes
Interchangeable band
Yes
Voice command
Yes

BOX CONTENTS

Fossil Gen 4 Q Venture
Strap
Inductive charging magnet
Quick starter guild
Fossil Gen 4 Venture Features
Design
The new Fossil Gen 4 Q venture has a very attractive design that sets it apart as a classy and elegant piece suitable for official and casual outings. The body is built for durability with a stainless steel material, whereas the straps are interchangeable with 18mm straps width sizes. The watch faces can be customized as well to your choice letting you change your dial seamlessly.
The display quality is great. It features a bright full-color display which has a high resolution of 454 x 454 pixel. Its torchscreen and features additional 3 physical buttons by the right side which allows for easy navigation of the 1.4 inch screen. The top 2 buttons can be customized in wear OS while the center button acts as the home button.
Battery
The battery life of Gen 4 Q Venture is not so great, however it's a little bit better than the Gen 3. It still runs the Qualcomm snapdragon wear 2100 which is considered outdated and drains battery, though Qualcomm have announced a new version will be released soon. The battery is li-ion, on standby you should expect a battery life of about 2-3days while on mixed average usage it's estimated to last the whole day.
The Gen 4 Q Venture battery can be charged simple by plugging the USB end to low-power source, then place the smartwatch on the inductive charging magnet. It takes about 2-3 hours for the battery to be fully charged. To avoid damage to the device, it is recommended that you use only inductive chargers. Also do not use a USB hub, USB splitter, USB y-cable, battery pack or other peripheral device to charge .
Media
The Gen 4 Q Venture is fun packed. It comes with 4GB internal storage space that lets you store your favorite tracks and other files which you can listen to via a Bluetooth enabled earbud on the go while working out, in the office or just recreating.
Also available is a microphone that comes handy in performing a number of tasks simply by using your voice
Water Resistance/Protection
Fossil Gen 4 Q Venture is certified 3ATM which means it is water resistant up to 30 meters under water. It is safe to wear this under the rain, to the shower and even to the pool for those that wish to track their swimming activities.
Activity/Fitness tracking
The Gen 4 Q Venture comes with all the standard sensors which includes an accelerometer, gyroscope and heart rate monitor (HRM) these are capable of tracking various activities such as monitoring your heart rate variation, calories burned, calories consumed, steps and distance covered.
The Gen 4 Q Venture unlike the previous versions comes with an inbuilt GPS sensor that is able to track outdoor activities such distance, routes and locations.
Notifications & Application
The Gen 4 Q Venture comes with a Bluetooth smart v4.1 LE which when paired with a compatible smartphone syncs effortlessly to enable notifications alert as they arrive. Notifications include;
It alerts you when there is an incoming call or missed calls.
It keeps you updated with it's event reminder and calendar features.
It is capable of updating you with weather forecast data.
It notifies you when you have a new text message alert.
It also alerts you when there is a new email on your phone.
It alerts you instantly when there is a notification from different third-party applications such as Facebook alerts, Whatsapp alert and Twitter alerts.
The Gen 4 Venture comes with a rose-gold stainless strap which are interchangeable with a 18mm strap of your choice. Beside this, the watch faces can also be customized to your choice. You can set the watch face to your favorite photo.
The Gen 4 Q Venture has a LED flashlight which you can use to illuminate dark spaces.
The Gen 4 Q Venture is compatible with android 4.4 (excluding Go edition) or later and iOS 9.3 or later.
Unlike previous versions, The Gen 4 Venture now has an NFC chip which powers Google pay , a contactless payment system which lets you make payments on the go with just a swap .
The Gen 4 Q Venture has a loudspeaker and a microphone which lets you use the voice command feature for text and otherwise via Google assistant. Beside this the Gen 4 is able to keep track of multiple time zones, your local time as well other time zone. Also when you travel out to another country it automatically updates to the correct time of that country.
The three button on the right side of the Gen 4 can be customized. You can assign functions to the buttons based on the features you use most.
Pros
Sleek and classy, a perfect fit for women.
A great choice for tracking your active life.
Customizable straps and watch face.
It has a LED flashlight.
Customizable buttons.
There is microphone and NFC that supports Google pay.
It is Swim-proof
Cons
The battery is not so great.
Editor's Ratings
Here is our rating on Fossil Gen 4 Q Venture
Design:

(

4.5

/

5

)

Battery:

(

2.5

/

5

)

Fitness tracking:

(

4.0

/

5

)

Features:

(

4.0

/

5

)

Price:

(

3.5

/

5

)

Average:

(

3.7

/

5

)
Where to Buy