Fitbit Charge 3 is Fitbit latest addition to their list of fitness tracker. Off course it has quiet some upgrades from the Charge 2, its touchscreen, their is NFC in special edition, its swim proof and has better durable materials. The special edition of Fitbit charge 3 will be released next month, in November.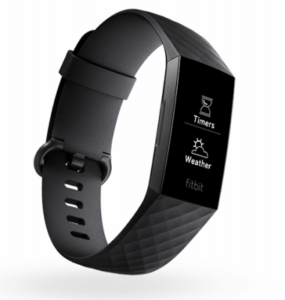 Fitbit Charge 3 Full Specifications
EDITOR'S RATING

Design:

(

4.5

/

5

)

Battery:

(

4.0

/

5

)

Fitness tracking:

(

4.5

/

5

)

Features:

(

4.0

/

5

)

Price:

(

3.0

/

5

)

Average:

(

4.0

/

5

)




WHERE TO BUY

BUY AT AMAZON

ABOUT DEVICE

Device name
Fitbit Charge 3
Device type
Fitness smartwatch
Predessesor
Fitbit Charge 2
Successor
--
Released date
August, 2018
Ideal for
Great for both men and women

DISPLAY

Display type
Color OLED
Display size
1.57 inch
Screen resolution
--
Color density
--
Input type
Touchscreen plus inductive button
Multi-touch
--

BODY

Shape
Rectangular/curved
Dimension
38 x 18.3 x 11.8 mm
Weight
30 grams
Casing material
Aluminum
Strap material
Polyester
Bezel Material
--
Band size
5.5 - 8-7 inch (different sizes)
Screen protection
Corning Gorilla glass
Water resistant
Yes, 5ATM
Color(s)
Black, white, rose-gold

MEMORY

RAM
--
Internal storage
Memory card slot
--

CONNECTIVITY

Bluetooth
Bluetooth v4.0
Wi-Fi
--
NFC
Yes (special editor)
GPS
No, (connected GPS)

CELLULAR TECHNOLOGY

Technology
--
SIM slot
No
Band
--

NOTIFICATIONS

Email alert
Yes
SMS alert
Yes
Calls alert
Yes
Event reminder
Yes
Weather forecast
Yes
Facebook notifacation
Yes
Twitter notification
Yes
Whatsapp notification
Yes

FITNESS TRACKING

Sleep tracking
Yes
Heart rate monitoring
Yes
Distance covered
Yes
Steps climbed
Yes
Calories burnt
Yes
Sedentary reminder
Yes
Hiking
Yes
Calories Consumption
Yes

MEDIA

Audio
--
Bluetooth audio
No
Radio
No
Loudspeaker
No
Microphone
No
Camera
No

SENSORS

Pedometer
Yes
Accelerometer
Yes
Magnetometer
--
Heart rate monitor (HRM)
Yes
Barometer
Yes
Gyroscope
Yes
Ambient light
Yes

PLATFORM

Operating system (OS)
Fitbits OS
Chipset
CPU
--
GPU
--

BATTERY

Type of battery
Lithium polymer
Battery capacity
Battery life
Standby :6days+ , Mixed usage: 40hours+
Charging
USB based charging dock
Charging time
About 2 hours

MISC

Payment system
Fitbit Pay (special edition)
Compatibility
Andriod, IOS

Check supported devices
Companion app
Fitbit App
Customizable watch face
Yes
Interchangeable band
Yes, (different sizes)
Voice command
--

BOX CONTENTS

Fitbit Charge 3
Strap
Charging Dock
User manual
Fitbit Charge 3 Features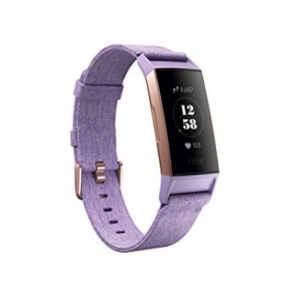 Design
The newest fitness tracker from Fitbit inc, Fitbits charge 3 is stylishly designed with top notch finishes which gives it an elegant sporty look. It's a fitness tracker capable of tracking various fitness activities as well as serve as traditional watch. The screen size is 1.57inch which slightly bigger than the older Fitbit charge 2. Just like the charge 2, charge 3 display is powered by OLED with an added grayscale technology that adds to the display quality and also makes viewing the device under sunlight a bliss.
The body is built for durability with aero-grade aluminum material which adds to its reduced weight as well as a reflective elegant design. Whereas the strap is made of polyester material with aluminum buckle. Although the straps are interchangeable, can be changed with any strap of your choice.
The Fitbit charge 3 is much lesser than the charge 2, it weighs only 30 grams compared to charge 2 which weighs 36grams.
Battery
The battery life of Fitbit charge 3 is one of its selling point, it has quiet an impressive battery life, though not the best. Just like the other fitbits It's a lithium polymer battery. On standby the battery can last for about 6days+ while on mixed/average usage it stays up for about 3days+. Fitbit charge 3 can be charged via the USB charging cable that came with the device, this can be done by plugging the cable into your computer or other low-energy source, its not recommended to use USB hub or battery pack in charging. It takes about 2-3 hours for the battery to be fully charged.
Water Resistance/Protection
Fitbit charge 3 is water resistant up to 50 meters and as such it is swim ready, can be worn under rain, under the shower, but like every other electronic device it is recommended that you get it dried up once not in contact with water to get the best out of it. It is also recommended that you don't subject the device to high pressure such as diving, or wearing it to a hot tub.
Beside this, just like other versions of Fitbit smartwatches like Fitbit ionic, Fitbit versa, the screen is made of a corning gorilla glass for protection which makes the screen scratch resistant.
Activity/Fitness tracking
Fitbit is very keen on its healthy living hallmark and off course has built into the charge 3 fitness activity tracking features that encourages you to live a more healthier life. Fitbit charge 3 comes loaded with really smart sensors which are capable of tracking quiet a huge list of fitness activities. This include;
Tracking steps you climbed.
It also tracks calories burnt after a workout.
The heart rate monitor sensor monitors your heart rate and can analyze general health of the heart plus real time heart rate zone.
It is capable of tracking your sleep.
It is also capable of reminding you of sedentary times and encourages you to walk.
For female health on the Fitbit charge 3 the Fitapp can be used to log your period, record symptoms and compare it with other health stats.
Just like Versa and Ionic, there is a new sensor on the Fitbit charge 3, SpO2 which won't be active for the time being as Fitbit is still working on it. This sensor will be capable of tracking breathing disruptions which can be a sign of allergies, asthma or other related ailments.
Notifications & Application
The Fitbit charge 3 is capable of notifying you of updates from your phone. It notifies when there an incoming call, although you can't answer it, similarly it notifies you when there are missed calls. The charge 3 also notifies you when there are notifications from third-party apps installed on your phone such as; facebook, twitter, instagram,whatsapp… Weather forecast, event/calendar reminder are some other notifications you get from a Fitbit charge 3.
You can personalize how you get notified by the Fitbit charge 3 by setting it up using the Fitbit app.
The companion app for the Fitbit charge 3 is the Fitbit app which over the years has received subsequent upgrades in it's features and functionality which makes it a much better companion app for the device. Stats and metrics from workouts and other fitness activities can be viewed via the app even over a long period of time helping you monitor health status and trends.
The downside to the Fitbit charge 3 is that it lacks an in-built GPS, however if you still want the GPS functionality, you can connect to the GPS in your smartphone. Secondly, the charge 3 doesn't have an internal storage space where you can store your favorite tracks which you can play via a Bluetooth enable earbud.
The Fitbits charge 3 is compatible with various android, IOS and windows devices. You can check if your smartphone is compatible with the Fitbit charge 3 via Fitbit compatible devices page. There is an NFC chip built into the Fitbit charge 3 special edition.
The Pros
It is touch screen.
The design is top notch.
It is water resistant up to 50 meters.
It has a huge list of fitness tracking features.
It comes with an NFC functionality.
The body is built for durability.
The strap can be changed.
The display is bright and rich colored.
The Cons
It doesn't have in-built GPS
It doesn't have a loudspeaker neither microphone.
It doesn't have music storage space.
Editor's Ratings
The Fitbit charge 3 is really captivating and a beast to behold. It has obviously all that you would expect from a modern day fitness tracker, its sleek, will fit for casual outings and any type of workout.
Here is what we honestly think of the charge 3 ,
Design:

(

4.5

/

5

)

Battery:

(

4.0

/

5

)

Fitness tracking:

(

4.5

/

5

)

Features:

(

4.0

/

5

)

Price:

(

3.0

/

5

)

Average:

(

4.0

/

5

)
Where to Buy