Amazfit Pace 2 Full Specifications and Features
Xiaomi released Amazfit pace 2 in December 2017 which is a slight upgrade in both design and features from Amazfit pace. It bears the brand name Amazfit Stratos. The smartwatch has all the look of a sporty design as well as classic appearance which makes it ideal for almost every occasion. It will fit more stylishly on a male wrist than a female wrist.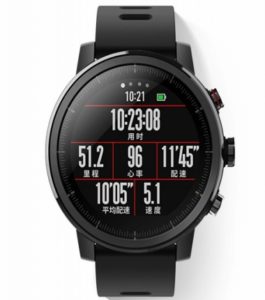 Amazfit Pace 2 Full Specifications
Attention: The internal data of table "amazfitpace2" is corrupted!
Amazfit Pace 2 Features
Design
Amazfit pace 2 (stratus) is a premium multisport smartwatch made by Huami a subsidiary of Xiaomi, it's a smartwatch that defines a perfect balance between a traditional watch and a fitness tracker as well as a suitable wearable for official duties.
Amazfit pace 2 is built with tough and durable materials, but less durable materials than Amazfit pace 2s, the screen of the watch is protected by a glass material, it has a bezel made up of a ceramic material giving the watch a classic look, while the strap is made of quality silicone material which can't be wetted and can be changed with a 22mm band. The body is made up of stainless steel and polycarbonate reinforced with a glass material.
The amazfit pace 2 (stratos) features 3 stainless buttons, this plus the touch screen makes accessing the device very easy. A very big plus for the device.
Amazfit pace 2 has the classic and sporty design which will look great in the office or in workout functions. The bright display is quiet great, a 1.3 inch with a capacitive LCD colored touch screen. It weighs only 60 grams, which is great despite its enormous features.
It is water resistant up to 5ATM or 50 meters, which means you can wear it under rainfall, but does not include diving with it as it can damage it.
The watch faces are customizable and can be change and the wrist bands are interchangeable with a 20mm band
Media
Amazfit pace 2 has a RAM of 0.5GB and an internal storage of 4GB which can store over 300+ of your favorite tracks, store videos, photos other files.
Amazfit comes with Bluetooth v4.2 for top notch connectivity. You can as well connect to the device and play your favorite tracks while working out via a Bluetooth enabled erpiece. It also comes with a built-in GPS that is quiet accurate in tracking all your routes during workout or other functions. It also has a WiFi.
Battery
Amazfit pace 2 maintained the good battery life of the Amazfit series, it has a battery capacity of 290mAh which on standby can last for about 4days+, while on average/mixed usage it could stay up for about 1dy+.
The manufacturer guarantees 35 hours of battery life when you its on sport mode with the GPS on simultaneously. It battery takes about 2.5 hours to be fully charged.
Activity/Fitness tracking
Amazfit pace 2 is a great sporty smartwatch packed with tones of fitness tracking features. Fresh out of the box, it comes with about eleven preset activities as listed below;
Walking
Triathlon
Running
Cross-country running
Cycling
Swimming in the pool
Swimming in open water
Treadmill
Bike
Elliptical trainer
Climbing
Beside the huge list of fitness tracking features, Amazfit pace 2 also comes with a whole lot os sensor technology built-in that helps you to achieve greater goals via detailed analysis after every workout activity.
The sensors are quiet sensitive and can detecting even the slightest movements. Another new fitness features in the Amazfit pace 2 is the VO2max indicator which measures your maximum oxygen consumption, helping determine your cardiovascular health.
Notifications & Application
Amazfit pace 2 is a great companion when it comes to notifying you with all the necessary updates such as email, SMS, incoming calls alert, weather forecast, event reminder and other application like facebook alert, twitter alert. It alerts you by vibrating when there is a new notification. Amazfit pace 2 is compatible with android 4.4 and above and Iphone 9.0 and above respectively.
The Pros
The design is sleek, classic and elegant.
The battery life is great compared to its vast features (4day+).
It is water resistant up to 5ATM..
VO2max feature.
Built with durable material
It has 3 buttons in addition to touchscreen for easy accessibility.
The Cons
No speaker/microphone.
No camera.
Has no sim slot..
Video
Editor's Ratings
Amazfit pace 2 stands out as a fantastic smartwatch in terms of the design, fitness tracking and a whole list of other criteria.Its built for durability with though materials plus additional fitness tracking sensors.
To sum it up, the design and features built into Amazfit pace 2 makes suitable for virtually any occasion. So it will be safe to say that it is worth every penny.
After a thorough research we carried out on this device and based on real users experience and reviews, here is our rating of Amazfit pace 2.
Design:

(

4.5

/

5

)

Battery:

(

3.5

/

5

)

Fitness tracking:

(

4.5

/

5

)

Features:

(

4.5

/

5

)

Price:

(

3.5

/

5

)

Average:

(

4.1

/

5

)
Where to Buy